We literally "wrote the book"on web presenting.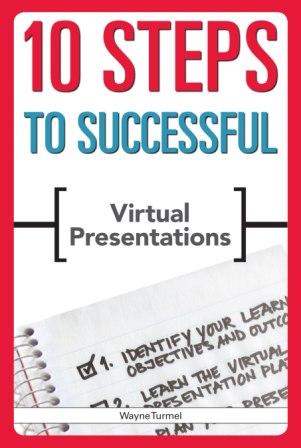 Available for purchase in December, 2010 this book by Greatwebmeetings president Wayne Turmel takes the fear out of presenting virutally for sales people, trainers or anyone who has to communicate using any web platform.
ASTD Books says "WayneTurmel take the scary out of presenting virtually".
The book will be available soon,meanwhile, read what ASTD Editor in Chief Tora Estep has to say:
Wayne Turmel dispels those fears and explains in clear and friendly terms how to plan and deliver great virtual presentations that get results.
The 10 steps presented in the book are
Identify your objectives and outcomes
Learn the platform
Create a project plan
Work with others
Create compelling content
Create visuals that support your presentation
Sharpen your presentation skills
Rehearse
Present and multitask effectively
Follow up and keep learning.
$19.95 includes US Post to US destinations.
"'Glitch-plaqued snoozefest' or engaging tool to be leveraged? The choice to have successful virtual presentations is ours to make - and this book is the resource to use. Chock full of practical and actionable techniques, 10 Steps to Successful Virtual Presentations is destined to become a well-worn and classic reference tool on this topic."
Dana Gaines Robinson
Co-author of Performance Consulting
"Presenting virtually has become one of the core competencies for managers and leaders in the modern workplace. Wayne Turmel brings his humor and extensive knowledge of the subject to the pages of 10 Steps to Successful Virtual Presentations, making this book a must-have for all those presenting on the web!"
Marshall Goldsmith
New York Times and million copy best-selling author of MOJO
and What Got You Here Won't Get You There.
"I love this book. It delivers everything it promises…and more. It's irreverently funny, extraordinarily informative, and exceedingly practical. And I'm absolutely certain that you will feel far more capable of delivering a virtual presentation after you've read this book than before you cracked open the covers. But what impresses me most about Wayne Turmel is his humanity. On every page he makes it clear how much he cares about you. He truly wants you to be successful. He wants you to put this book to use and then make the best virtual presentation you've ever made in your entire life. And that's exactly what will happen once you've read, applied, and enjoyed 10 Steps to Successful Virtual Presentations."

Jim Kouzes
Award-winning coauthor of best-selling
The Leadership Challenge
The Dean's Executive Professor of Leadership, Santa Clara University